North Elm Common School District No. 56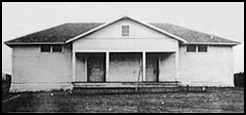 The Cameron Herald published an article on September 20, 1976, stating that the school served the community as early as 1885.
The school children first met under a brush arbor, taught by Mr. Joe Eplen. It isn't known as to the year the school building was built. It was a three room school with a hall where a rope hung from the school bell. The school employed three teachers each year. Through the years the teachers recorded were Mary Price Houston, daughter of Mose Price taught 22 years; Mrs. C. H. Carroll; Edna Mae Lott, daughter of Mary and Sam Houston; Nora Duncan; Minnie Blaylock; Kate McClendon; and Cleo Reed Nichols.
In the early 1950's the school was closed and the students transferred to nearby Yarrellton School. Yarrellton School faded as well, into obscurity, when the railroad passed it by.  Also, "Yarrellton" has been respelled as "Yarrelton" on official maps.
After the school was torn down, Mrs. Houston purchased the lumber. A reunion for North Elm School is held periodically under the pavilion at the Cemetery.